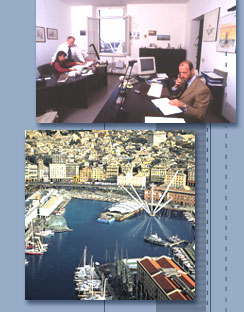 We are an international forwarding agency specialized in import from outside countries for what concerns apiarian products, confectionary and alimentary products, fresh fruit, fruit juices and vegetables extracts, spirits, plants, herbs (including officinals), integrators and vitamines, which we import from all over the world on behalf of some primary industries and italian firms in this field too.
We deal in clothing, chemical products and various kind of goods.
Our firm prides itself 0n 50 years of experience in this field: for this reason we have developed a good knowledge of the International Market and good business relations with foreign sellers and shipping companies in order to take care of shipments from producer to importer.
Our services includes the insurance cover too, with market's rates, as full warranty to the importer. We have a large warehouse where we provide to unloading operations and to stow any kind of goods, arranging with our clients.